Treatment prices start at $300 per treatment for a business card size or smaller.
We can treat any size and any color tattoo safely.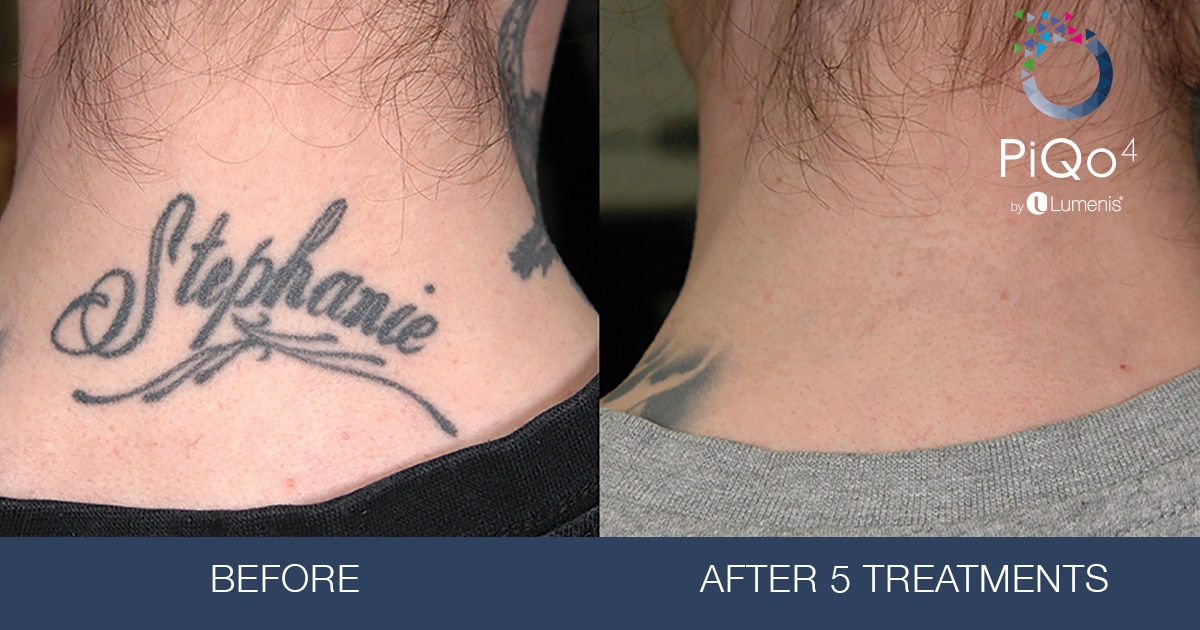 Tattoos Have Met Their Match!
PiQo4 by Lumenis quickly, safely and effectively erases unwanted ink, no matter the color!
WITH THE POWER OF MULTIPLE WAVELENGTHS, PiQo4 TREATS A WIDE ARRAY OF INK COLORS.
Did you know…Ink colors have differences in light absorption, which means multiple wavelengths are crucial to effectively treat a colorful tattoo.
PiQo4 is a cosmetic laser that is FDA-cleared for tattoo removal, as well as skin resurfacing and pigmentation removal. This laser is the most advanced technology available for tattoo removal which contains 4 wavelengths to address all colors.
PiQo4 by Lumenis utilizes two different pulses: nanosecond and picosecond. Traditional tattoo and skin rejuvenation lasers utilize nanosecond pulses and work very well. However, many tattoos cannot be completely cleared with nanosecond pulses alone. "Pico" (PiQo) stands for picosecond pulses. These extremely short pulses that can shatter ink and pigmentation into tiny particles, providing more effective clearance.
There are many variables to consider when developing a treatment plan for laser tattoo removal. The age of the tattoo and location of the body play a part, as well as which ink colors were used. Best results are seen after a series of treatments and your practitioner will provide you with expected results.
A small tattoo can be treated in a matter of minutes.
In many cases, yes. However, some ink colors are more difficult to eliminate than others. Your practitioner will be able to talk with you about your goal and expected results during your consultation. PiQo4 is able to treat all tattoo colors due to the 4 wavelengths the laser has.
With PiQo4 we are able to precisely treat even the smallest area without affecting the surrounding skin.
Laser tattoo removal is not pain free. Most patients say that the laser feels like a rubber band snapping against the skin. Topical anesthetic may be available to minimize discomfort along with use of ice. For larger tattoos or for those who want extra comfort, we also offer the use of Nitrous Oxide (Laughing Gas) for an additional minimal charge.
Many patients experience redness and swelling immediately following the treatment. These side effects are temporary. Occasionally, colored tattoos may develop blisters after the treatment, but usually heal well with topical ointment.
Patients can return to regular activities immediately following the treatment. However, exposure to the sun should be limited until the treated area has completely healed.
PiQo4 combines ultrafast nanosecond and picosecond pulse widths with 4 wavelengths and high energy to effectively shatter ink particles.
This gives patients faster results in fewer treatments.