Your skin is the largest organ of your body, as well as the most visible. That's why it's so important to take good care of it. Just as you probably get your hair cut regularly, and stop in for a manicure or pedicure from time to time, you need to take care of your skin on a routine basis in order to correct and prevent the signs of aging. The fountain of youth for your skin can be as simple as using good daily skin care products and getting non-invasive treatments on a consistent ongoing basis. At Alamo Hills Advanced Aesthetics & Laser Center we have made this an affordable reality with our new VIP membership programs. The VIP Membership will give you access to regular maintenance treatments and additional discounts on products and other corrective services you may need.
Alamo Hills VIP Membership Program:
You can choose your membership type.
GOLD VIP MEMBERSHIP

$99/month for 6 Months

1-FREE Facial Treatment once a month

BOTOX: $10.50/unit

10% OFF all Services

10% OFF all Products

$29 sign up fee

PLATINUM VIP MEMBERSHIP

$99/month for 12 Months

1-FREE Facial Treatment once a month

BOTOX: $9.50/unit

15% OFF all Services

15% OFF all Products

$29 sign up fee
Join our VIP membership today!
Members receive one Facial service monthly and special prices and discounts everyday. No more need to wait for sales on our highly effective medical-grade products and services. For the low, low monthly membership fee of $99/month, members will get to choose 1 facial service each month at no extra charge.
The list of some facial service includes your choice of a:
Anti-Aging Facial, European Facial, Microdermabrasion, Dermaplaning, Venus Freeze Skin Tightening Facial, or an AHA Chemical Peel.
You can choose a Dermaplaning one month and then a microdermabrasion or a anti-Aging facial the next month. The choice is yours.  All facial treatments are performed by our highly skilled and knowledgeable clinical aestheticians in a relaxing atmosphere that will help you rejuvenate your skin and your soul.
Members Only Discounts and Specials Offers
In addition to your monthly spa service, VIP members will get special discounts and special members only discounted rates on: Botox, Dermal Fillers, Chemical Peels, Medical-Grade products, laser treatments, and laser hair removal.
Platinum VIP Members also receive 15% off all other regular priced services and products.
Payments will be automatically deducted from your credit card account. Payments can be deducted monthly or can be paid in full at once, again, your choice! We ask for a 6-month or 1 year commitment from you and we will provide you with high quality, relaxing, rejuvenating medical spa products and services.
*Discounts good on regular prices only
Maybe, you have a special someone in your life who you think deserves to have a treatment once a month. A VIP membership at Simi Valley's most advanced and award winning Med Spa and Laser Center would make a great gift for that special someone.
Call us today at 805-527-3711 or Contact Us to schedule your first treatment and to sign-up for the exclusive VIP membership!
Read what some of our current members are saying about our VIP Membership:
"Alamo Hills is the best medi spa I have found.  All the staff are so knowledgeable, professional and friendly.  The VIP membership plan Is such a great deal; you get a choice of facials monthly and discounts and products and services.  I have been going here for several years and plan to continue.  My skin has improved greatly and I can't thank them enough for their guidance and care.  Try it, you'll love it here!"
Shirley A.
"I can't say enough about this place. I have been a VIP member for over 5 years and get facials every month. I also get all of my injectables there as well because these girls know what they are doing. It is great that I get 15% off all services with my VIP membership but more importantly the nurses are very well trained and have conducted magic for me on my face. There are so many different services available now which it's very exciting. The girls in the front, the nurses, owner and estheticians are like friends. I always look forward to going because I walk out refreshed and let's face it, younger looking! :-)" 
D.S.
"I've thoroughly enjoyed being a VIP member and have received great discounts on my treatments, as well as the incredible facials I've received from Lisa. Definitely a gem in our Simi Valley."
Kelly P.
"I have been a member for years and can tell you this has been my best investment."
Kim B.
BOTOX® Cosmetic, Dysport®, XEOMIN®, and Jeuveau®
Reverse The Signs of Aging By Smoothing Wrinkles, Frown Lines and Crow's Feet
BOTOX® Cosmetic: Botox® Injections
Our Botox treatments are administered in a simple non-surgical 15-30 minute session. Botox, a purified protein, temporarily smooths the moderate to severe frown lines between the brows and on the forehead, as well as the crows feet that are around the outside of the eyes. Smooth away your frown lines today.
XEOMIN® is a prescription medicine that is injected into muscles and used to improve the look of moderate to severe frown lines between the eyebrows (glabellar lines) in adults for a short period of time (temporary).
It is not known if XEOMIN is safe and effective in children under 18 years of age.
Dysport Anti-Aging Treatment
Dysport is a prescription injection for the temporary improvement in the look of moderate to severe frown lines. Dysport can be injected in the glabellar lines between the eyebrows, creases in the forehead and around the eyes. Dysport treatments are a non-surgical option for the treatment of wrinkles.
Meet Jeuveau® (prabotulinumtoxinA-xvfs) injection–a prescription medicine that is injected into muscles and used to improve the look of moderate to severe frown lines between the eyebrows (glabellar lines) in adults for a period of time (temporary).
We have excellent results with our Dermal Fillers, because we will always strive to achieve the most aesthetically pleasing, natural looking results to make our clients look and feel rejuvenated. We will carefully select a suitable filler for each client to achieve the most desirable results.
Juvéderm Collection (Voluma, Vollure, Volbella, Juvederm Ultra, Juvederm Ultra Plus)
A collection of fillers - made for different needs
JUVÉDERM® is the #1 selling collection of hyaluronic acid fillers in the US. Each product in the JUVÉDERM® collection of fillers adds volume to a different area of the face to lift cheeks, smooth parentheses lines, or plump the lips. The results are subtle and long-lasting.
Juvéderm is a longer lasting, smooth consistency gel made of hyaluronic acid. Juvéderm, an injectable gel, can instantly restore your skin's volume and smooth away facial wrinkles and folds, like your "smile lines" or nasolabial folds (the creases that run from the bottom of your nose to the corners of your mouth). Juvéderm provides a smooth, natural look and feel that lasts up to 9 months. Vobella, Vollure, and Voluma are indicated to last from 1 to 2 years depending on the filler.
Juvederm Voluma is first and only FDA approved to instantly add volume to the cheek and chin area in people over 21. Juvederm Voluma contains a modified hyaluronic acid derived from a naturally occuring complex sugar that gives a subtle lift and helps restore contour for up to 2 years. Now you can look up to 5 years younger with a simple non-surgical treatment.
Radiesse is made of calcium-based microspheres suspended in a water-based gel. It is injected into the skin through a simple and minimally invasive procedure giving you immediate, visible improvement of folds and wrinkles, and providing long-lasting and beautiful results. In many clients, the effects of Radiesse may last a year or more, offering clinically proven safety and longevity. Radiesse is a convenient treatment that stimulates the skin to produce new collagen, often with just one or two office visits.
Restylane Collection (Lyft, Defyne, Refyne, Kysse, Silk)
The Restylane® collection smooths away facial wrinkles and folds. It also provides subtle lip enhancement and can smooth the lines around the mouth.  Restylane Lyft adds lift and volume to the cheeks and is indicated to help reverse the signs of volume loss in the back of the hands.  The Restylane line of products is formulated to act like your body's own naturally occurring hyaluronic acid, restoring volume to your skin.
If you're bothered by moderate to severe submental fullness, sometimes referred to as "double chin," we've got something new just for you! Kybella is the first and only FDA-approved nonsurgical treatment that contours and improves the appearance of submental fullness.
Dr. Nawabi is one of the first physicians in the state of California offering Kybella.
SEEING IS BELIEVING.
Photos of before and after just one treatment: https://www.mykybella.com/kybella-before-and-after
Submental fullness can impact a broad range of adults, including both men and women, and influenced by several factors such as aging, genetics and weight gain and is often resistant to diet and exercise alone.
Kybella can improve the appearance of moderate to severe convexity or fullness associated with submental fat (double chin) in adults.
Kybella is currently the only FDA-approved treatment used on the chin.
Kybella works by dissolving the cell wall of the fat cells and is removed by your natural body processes.
Kybella injections takes less than 15 minutes.
Kybella should only be administered by a well-trained medical healthcare profession.
Kybella is not a treatment for excess skin or extreme fat deposits on the entire neck. Appropriate patients are those with isolated fat under the chin and without sagging skin.
KYBELLA® (deoxycholic acid) injection is the first and only FDA-approved injectable treatment that is used in adults to improve the appearance and profile of moderate to severe fat below the chin (submental fat), also called, "double chin." It is not known if KYBELLA® is safe and effective in children less than 18 years of age. It is not known if KYBELLA® is safe and effective for use outside of the submental area.
The active ingredient in KYBELLA® is deoxycholic acid, a naturally-occurring molecule in the body that aids in the breakdown and absorption of dietary fat.
When injected into the fat beneath your chin, KYBELLA®causes the destruction of fat cells. Once destroyed, those cells cannot store or accumulate fat.
Is KYBELLA® right for me?
Only you and your doctor can decide if KYBELLA® is right for you. If you're bothered by submental fullness, or double chin, ask your doctor about KYBELLA®.How many people have been treated with KYBELLA®?KYBELLA® has been the focus of a global clinical development program involving over 20 clinical studies with more than 2,600 patients worldwide, of which over 1,600 have been treated with KYBELLA®.
Will I experience any side effects?The safety profile of KYBELLA® is well characterized. The most common side effects are swelling, bruising, pain, numbness, redness and areas of hardness around the treatment area. KYBELLA® can cause serious side effects, including trouble swallowing and nerve injury in the jaw that can cause an uneven smile or facial muscle weakness.2These are not all of the possible side effects of KYBELLA®. Call your healthcare provider for medical advice about side effects.
How many treatments will I need?
You and your doctor will customize your KYBELLA®treatment regimen, including how many treatments you need, based on your desired chin profile. Many patients experience visible results in 2 to 4 treatment sessions. During these sessions, your HCP will administer KYBELLA®into the fat under your chin using multiple injections. Up to 6 treatment sessions may be administered spaced no less than one month apart.
In clinical studies, results for KYBELLA®-treated patients who had a ≥1-grade composite improvement were 8% (1 treatment), 28% (2 treatments), 43% (3 treatments), 55% (4 treatments), 66% (5 treatments) and 72% (6 treatments)
In clinical studies, results for KYBELLA®-treated patients who had a ≥2-grade composite improvement were 0% (1 treatment), .2% (2 treatments), .8% (3 treatments), 3.5% (4 treatments), 3.9% (5 treatments) and 15% (6 treatments)
59% of subjects in the clinical trials received all 6 treatments
How long will the results last? When injected into the fat under your chin, KYBELLA®causes the destruction of fat cells. Once destroyed, those cells cannot store or accumulate fat. After the aesthetic response is achieved, retreatment with KYBELLA® is not expected.2
We have some of the most advanced and state of the art lasers available to treat many common skin conditions. Below are some of the skin conditions that we can treat:
Vascular Skin Conditions
Laser Hair Reduction
Laser Vein Removal
Pearl Laser Skin Resurfacing
IPL-Intense Pulse Light
Laser Genesis
Titan Skin Tightening
Laser Nail Fungus Removal
Melasma
Skin Lightening
Pigmented Lesion Removal
Acne Scars
Vascular Skin Conditions With Cutera Excel V Laser- Aesthetic Laser For All Skin Types
The Excel V Laser System is a new and state-of-the-art laser technology for treating vascular skin conditions such as Rosacea, spider veins and Telangiectasia and pigmented lesions including sunspots.[1]* The Excel V Laser System uses a high power green laser to target abnormal blood vessels and pigment in the skin. As these vessels or pigment cells are targeted, the skin is returned to a more natural color and tone.* Excel V can be altered to be compatible with each patient's skin condition. Excel V also has an adjustable spot size which allows for precise treatment of both superficial and deeper problems.* To ensure patient comfort, Excel V uses new cooling technologies which produce continuous cooling before, during and after the laser pulse.
Conditions Treated with Excel V*:
Rosacea
Telangiectasia
Leg Veins
Facial Veins (red and blue)
Venous lake (purple lesions on lips)
Diffuse redness of the face and neck skin
Scars and keloids
Sebaceous hyperplasia (dilated oil glands)
Port Wine Stain
Hemangiomas
Cherry Angioma
Freckles
Sun damage pigmentation
Warts
Excel V, which was developed by Cutera, is a new laser system for providing treatment of a variety of vascular skin conditions.* Many skin conditions manifest in the form of broken or abnormal blood vessels in the skin, such is the case with rosacea, in which the facial blood vessels dilate excessively causing redness and flushing. Excel V treats these conditions by administering a unique high power green laser that is absorbed by the abnormal blood vessels in the skin.*  The laser heats the abnormal vessels.  At the end of treatment, the patient's natural skin tone and color are restored.*
WHAT SPECIFIC CONDITIONS DOES EXCEL V TREAT?
Excel V has been shown effective at treating a number of conditions, including rosacea, telangiectasias, leg veins, port wine stains, and cherry angiomas.* Excel V treats mild and severe forms of these conditions.* The system may also have a   cosmetic benefit for patients who have skin lesions or scars from past injuries or surgeries.*
WHAT ARE THE BENEFITS OF EXCEL V COMPARED WITH OTHER TREATMENT OPTIONS?
The benefit of Excel V is that the treatment can be highly adjusted to ensure that the physician is delivering a level of treatment that specifically matches the patient's skin condition. The system contains various wavelength modes, allowing the delivery of both short pulses for superficial blemishes, such as small lesions and skin discoloration, and longer pulses for deeper vascular conditions, such as leg veins and nodular port wine stains. It also offers a wide range of laser spot sizes to ensure that small treatment areas can be targeted at greater precision and larger areas can be treated in a shorter period. This high level of customization is what makes Excel V so effective at treating, often in one session, so many different conditions, which, in the past, would have required several different
WHAT ARE THE COSTS OF TREATMENT?
As with any procedure, the costs depend on the specific condition for which treatment is being provided. For minor conditions only requiring a single cycle of treatment, the cost generally ranges between $250-$1,000. For conditions   that affect a large portion of the skin and require additional treatment sessions, the price increases proportionally.
HOW CAN I FIND MORE INFORMATION ABOUT EXCEL V LASER TREATMENT?
Laser Hair Reduction With Cutera excel HR
Developed by the pioneers of laser hair removal technology, Cutera, excel HR™ is the next generation premium laser hair removal technology for women and men of all skin types, even tanned skin patients, available all-year-round.
WHAT MAKES EXCEL HR LASER HAIR REMOVAL DIFFERENT FROM OTHER LASER HAIR REMOVAL TECHNOLOGIES?
More coverage than ever before
excel HR's signature truPulse™ technology delivers consistent and sustained energy in each and every pulse—efficiently reducing the number of treatments required.
Superior patient comfort
excel HR significantly improves patient comfort by offering continuous cooling before, during and after each laser pulse. In a patient preference study measuring comfort and satisfaction, 100% of patients chose excel HR laser hair removal over a competitive laser hair removal procedure.
* True laser technology
Unlike limitations of older technologies that use  low-powered energy sources like pulsed light, excel HR only uses true, premium, laser sources to achieve the safest, most effective results for patients of all skin types.
HOW MANY TREATMENTS DOES EXCEL HR LASER HAIR REMOVAL REQUIRE?
The total number of treatments varies based on the area treated. Typically, 4-5 treatments spaced 6-8 weeks  apart is recommended. Some people may need more treatments.
WHY DOES LASER HAIR REMOVAL REQUIRE MULTIPLE TREATMENTS?
Laser and other energy-based hair removal requires multiple treatments because hair grows in different phases. Hair can take 6-12 weeks for it to grow from root to surface—this growth stage is known as the anagen stage and this is the perfect time to receive laser hair removal. You know when you are due for your next treatment session when hair in the treated area begins to grow back. It is very important to stick with the treatment schedule that your practitioners suggests—missing a treatment could allow your hair to enter the next stage where hair begins to detach from the hair follicle which can increase the number of treatments  originally required.
WHAT AREAS CAN BE TREATED?
Due to excel HR's superior technology, exceptional results are achievable on all hair types—fine or coarse. Commonly requested areas include underarms, legs, bikini area as well as men's chest and back
IS EXCEL HR LASER HAIR REMOVAL REALLY WORTH IT?
While traditional methods of hair removal, like shaving, waxing and depilatory creams are still the go-to-methods for many, these methods are all temporary and must be repeated on a frequent basis...forever! excel HR laser hair removal is the quick and efficient solution to rid yourself of unwanted hair. Additionally, excel HR laser hair removal helps you to be much more efficient, economic and green.
This innovative procedure offers new hope to those suffering from unsightly spider or reticular veins during a single, minimally invasive procedure. The Cutera CoolGlide treats most red and blue, facial and leg veins. No needles. No incisions. No downtime. Watch unsightly leg veins vanish today!
The Pearl™ Laser procedure safely and effectively renews the skin's surface. Pearl minimizes wrinkles, uneven texture and discoloration in one or two treatments. Unlike fractional technologies, Pearl™ involves less overall recovery, while giving your skin a healthy pearl-like glow.
This technology can correct benign skin conditions, such as: facial skin imperfections, signs of photo-aging, birthmarks, and other blemishes. IPL, Intense Pulsed Light, recognizes pigmented areas of the skin that are damaged and need repair. IPL is like an art that will enhance progressive results of diminished wrinkles, a supple skin texture and a beautiful even skin tone.
Laser Genesis- Skin Rejuvenation
Laser Genesis improves the skin's overall appearance, particularly on face, neck and chest, decreasing fine line wrinkles and restoring even skin tones. Genesis tightens pores and improves skin texture, smoothes ruddy complexions and diffuses excessive facial redness, including that caused by rosacea. This is truly a rejuvenating experience with no downtime. This means you will be able to see subtle yet consistent results after each treatment, without the unwanted side effects such as bruising or excessive skin irritation.
The new Titan laser gives you an all natural option to actively turn back the clock on aging skin. The light energy stimulates new collagen growth deep beneath your skin's surface, causing the tightening of the collagen architecture. After the procedure, new collagen growth will result in further tightening and development of a youthful complexion. Excellent for face, neck, stomach and other areas of the body with 2-3 treatments.
Laser Treatment for Nail Fungus
Nail fungus, also called onychomycosis, is a common condition affecting an estimated 10% of the population worldwide. It can cause nails to become yellow or discolored.  As the infection advances the nail can become thick, brittle and separate from the nail bed.  It can also cause pain when wearing shoes and walking.  Now nail fungus, either on the toes or fingers, can be safely and effectively treated with Laser Gensis.  Laser light passes through the nails and surrounding tissue and is absorbed by the pigment found in the fungi.  The pigment is then heated by the light, which damages and ultimately kills the fungi organism.  The treatment involves passing the laser beam over the infected nails and surrounding skin.  This process is repeated several times until enough energy has reached the nail bed.  Your nail will feel warm during the treatment.  Most patients show improvement after one treatment but additional treatments may be required depending on how severely the nail is infected. Once the treatment is complete a follow up visit is typically schedule for four months later to recheck and possibly retreat the infected nails.  The nail fungus should improve following the treatment but you will need to continue with home care techniques to reduce recurrence of the infection. Schedule a consultation today to see if your nail fungus can be treated with Laser Genesis.
Fractional CO2 Laser MiXto
The future is here with new technology in skin resurfacing with the MiXto SX®. Combining the effectiveness of Carbon Dioxide lasers long known to be the GOLD STANDARD in wrinkle removal with an innovative "quadrant" fractional technology and a more tightly focused beam, the MiXto SX® laser delivers uniform tissue ablation to the dermis causing immediate contraction and tissue tightening. A secondary effect is the production of new collagen over the next 6-12 weeks. This advanced technology delivers powerful results without the harsh side effects and downtime of traditional CO2 resurfacing.The MiXto® treatment is giving all the benefits of traditional laser resurfacing, without general anesthesia, pain and prolonged downtime.
The benefits to the Patient are:
Immediate shrinkage of damaged skin
Minimal discomfort with topical anesthetic
Minimal downtime (7 days)
Softening of fine lines and wrinkles
Removal of age and sun spots
New collagen production for up to one year following treatment.
The MiXto® treatment is giving all the benefits of traditional laser resurfacing, without general anesthesia, pain and prolonged downtime.
Actual Alamo Hills Laser Client Treated With MixTo CO2 Laser Resurfacing
WHAT IS MIXTO SX® MICRO FRACTIONAL CO2?
CO2 is a Carbon Dioxide laser that has been used for more than 25 years in the aesthetic industry for treatment of conditions such as fine and deep wrinkles, scars of various origin, uneven pigmentation and dilated pores. When the CO2 beam of light comes in contact with the epidermis it heats and vaporizes the skin tissue, instantly removing the superficial layers of the skin, scars and wrinkles while smoothing out the surface of the skin. The skin remodeling occurs with new skin and collagen growth. MiXto stands for the mixture between CO2 energy and fractional resurfacing, and the SX stands for surgical, because the laser can also be used to make a very clean incision without bleeding.
The MiXto SX® gives the Physician more control to regulate the depth of penetration and the amount of heat delivered by the beam. The high speed scanner, driven by a patent-pending algorithm divides the treatment area into four quadrants, or "fractions", and skips the beam from quadrant to quadrant so that each strike is separated by the longest possible interval. This process is repeated until the entire area is treated. Dividing energy this way allows maximum time for thermal cooling of the tissue, less pain for the patient and faster recovery! Compared to traditional resurfacing of the past this is a big step in technology for both the patient and the physician!
HOW IS THIS DIFFERENT THAN OTHER LASER TREATMENTS?
The MiXto SX® delivers more results in a 45-minute treatment than competitors can accomplish in 3 treatments with less discomfort, downtime and cost.
For all patients we apply a compounded topical anesthetic ointment.   Oral pain medications are available, however a driver is needed. We also offer Pronox, which is nitrous oxide (laughing gas). This provides additional comfort and you are able to drive yourself home after. The discomfort is similar to bad sunburn.
Erythema (redness of skin): the laser-treated areas have a distinctive redness representing increased blood flow due to the growth of the superficial tissue and collagen. It will gradually fade during the first few days. Inflammation (swelling): Treatment with the MiXto SX® System presents a minimal amount of swelling that can last up to 24 hours. Hyperpigmentation (tanning): This is presented after the third day of the procedure but then begins to shed and reveal younger healthy looking skin. A personal interview and clinical examination will be conducted to obtain relevant facts about your medical and dermatologic history, and any medications you are currently taking or have taken in the past. If you are prone to cold sores, you need to ask your doctor for an antiviral prescription before the treatment. Fractional Treatment with the MiXto SX® has been proven safe for the face, neck, chest and hands.
Most patients experience downtime of 7 days during the initial healing stages.
WHAT IS THE RECOVERY LIKE?
The patient is red and can be swollen the next day. On the second, third and fourth day the patient is peeling and can experience a little itchiness typical to a sunburn.
WHEN DO YOU SEE THE RESULTS?
Right away! When we are doing the procedure you can immediately see the skin contract and shrink. The patient will really see the benefits by the time the skin is completely peeled and will continue to see results for up to six months with new collagen regeneration that "plumps" up the skin.
WHO IS THE BEST CANDIDATE FOR THIS PROCEDURE?
There are three separate groups the MiXto SX® applies to; the younger patient with severe acne scars, the middle-aged patient with wrinkles and age spots and the older patient with wrinkles, age spots and pre-cancerous lesions.
HOW MANY TREATMENTS ARE NEEDED?
In most cases only one, but for deeper wrinkles and acne scars two or more treatments.
IS IT JUST FOR THE FACE OR CAN IT BE USED ON OTHER AREAS OF THE BODY?
It is most commonly used on the face but can be used on neck, chest, arms and hands.
IS THE TREATMENT EXPENSIVE?
The new technology has actually brought the price down, without compromising the results.
MiXto treatments range from $1250.00- $3000.00 depending on treatment area for a one-time treatment.
Vaginal Rejuvenation Treatment
Non-invasive Vaginal Rejuvenation Treatment
Restore your Intimate Life with our Safe & Simple non-surgical in-Office Procedure
Click Here to watch an animated video of the procedure
V-Lase the pain free alternative to surgery!
V-Lase is a non-invasive treatment that meets women's needs, taking into consideration the body's transformation as tissues age and undergo hormonal changes. V-Lase with Chopped CW laser technology is the safest treatment, based on a non-ablative photothermal effect that addresses numerous issues such as vaginal laxity, vaginal dryness, recurring infections, and involuntary bladder leakage.
Choosing V-Lase means taking care of your body by preventing these symptoms from negatively affecting the quality of life, allowing you to carry out a normal lifestyle. The V-Lease treatment is based on laser-induced mild, controlled heating of the vaginal tissue which stimulates angiogenesis, fibroblast activity and new collagen formation without ablative or excessive thermal damage.
Vaginal rejuvenation that improves:
Sexual gratification
Stress Urinary Incontinence
Vaginal Atrophy
Vaginal Dryness, Irritation, & Itchiness
Burning & Painful Intercourse
Epithelial Integrity / Elasticity
Noticeable Improvement after only 1 treatment!
Restore your Intimate Life Safe & Simple in-Office Procedure
Quick 10 Minute Procedure
No Downtime
No Bleeding, Pain, or Discomfort
 Anesthetic not required
OUR PATIENT TESTIMONIALS ABOUT V-LASE
8/25/2016
"I started the new vaginal restoration and WOW, it's working, I went from broken glass feeling inside to no pain, I love love love them. I never knew this was an issue for women until I got it and then saw the commercial for the pain during sex.  I go to the dr. at Kaiser for the new O pill or help and she gives me some messy cream that did very little and was yuck. This laser treatment works, It is a tiny uncomfortable but Theresa is so careful and knowledgeable. I have had IPLs and the toe nail therapy and my son goes monthly to keep his acne at bay with hydra facials. I have been a member for years and can tell you this has been my best investment. Venus Freeze, IPL, Red dot removal, Its all non surgical and having my Hydra Facial monthly is a bonus. Thank you All from my inner core : ) really  I'm pain free and dribble free and its only treatment 2, things were great after the first, can't wait for the final one. I'll be like a new wife. My husband thanks you too.
To each and every amazing person at Dr. Nawabi's Medi spa center in Simi Valley."
01/16/2020
"Gentlemen,
My lady had been sharing with me that she was unhappy with the appearance of her vagina. She said that there was sagging that she didn't want me to see, and it made her feel like she was losing her youthful appearance.
Of course, I reassured her that she was wrong. I told her that her vagina was beautiful. And to me it was.
However,  completely by accident I heard of V-Lase , and where it is performed. I couldn't resist getting the procedure for my lady, so I bought it. The place is Alamo Aesthetics in Simi Valley. The tech is Teresa Cardenas. The office is current, clean and professional. All very impressive.
And to get to the point my lady's problem is 100% gone. It looks brand new. She's happy. And she is very wet when we make love. It was, and is, a great outcome. 
No negatives here. Only positive"
Body Contouring with truSculpt 3D
Decrease circumference. Diminish fat. Discover an incredible new figure
You eat well and you exercise, but you're still frustrated by problem areas on your body that you just can't seem to get rid of. With truSculpt 3D, you can decrease circumference and diminish unwanted pockets of fat – and reveal the new figure you've been seeking. It's a safe, effective procedure – with no surgery and no downtime.
A new dimension in body sculpting
Your new figure is just a truSculpt 3D treatment away.
"After delivering 2 children by C-section, I had fat and loose skin on my abdomen and I was looking for a treatment that could address my concerns without downtime. The truSculpt 3D treatment was quick and easy to tolerate. Now at 12 weeks out, I see a noticeable difference in my abdomen – my pants fit better and my skin even looks better. truSculpt 3D is great treatment for busy people who are looking for improvement without the downtime and headaches of surgery. – LB"
truSculpt3D is the latest nonsurgical, no downtime procedure that is clinically proven to reduce problem fat areas on the body which are resistant to diet and exercise. truSculpt 3D is a breakthrough technology which uses RF (radio frequency) energy to precisely heat and terminally damage fat cells in the subcutaneous tissue layer. These are then eliminated from the body through the body's natural processes. This is a permanent fat reduction and a smoothing and firming of the targeted area.
On average, patients who've had this treatment have experienced an average of 24% reduction in fat thickness* in a single treatment.
Am I a candidate for truSculpt 3D?
Your provider can tell you whether you're a good candidate for truSculpt 3D. Ideal patients typically have a BMI of less than 30.
How long does a treatment take?
The length of your procedure will depend on which areas you're having treated. As a gauge, it usually takes about 1 hour to treat the abdomen and both flanks (love handles).
How many treatments will I need?
You should see results after one treatment, although some patients choose to have a second treatment for final tweaks or to treat additional areas.
Patients tell us that the procedure feels like a hot stone massage. Your provider will gently glide the handpiece over the treatment area and the temperature of the skin will rise but should remain comfortable for the duration of the treatment.
Will I need recovery time?
No. This is a noninvasive procedure and you'll be able to resume your normal activities right after the treatment. You may feel some tenderness in the treatment area right after the treatment but that will go away within a day or two. Are there any side effects? You won't experience any side effects except for the slight tenderness mentioned above.
Right after the treatment, your body will start to break down and flush out the remnants of the fat cells that have been treated, which begins the reduction in the treated area's circumference. Every body is different, but most people see noticeable results 6–8 weeks after being treated.
Are there any side effects?
You won't experience any side effects except for the slight tenderness mentioned above. When will I see results? Right after the treatment, your body will start to break down and flush out the remnants of the fat cells that have been treated, which begins the reduction in the treated area's circumference. Everybody is different, but most people see noticeable results 6–8 weeks after being treated.
To learn more about this safe, effective, nonsurgical procedure, schedule a complimentary consultation with Dr. Nawabi today. 805-527-3711
Skill and a firm understanding of the affects of various chemical peels on the skin based on color, thickness and ethnicity is involved in the selection and customization of our chemical peel procedures. We take all of these factors into consideration when we develop a process in order to treat our clients effectively, with acceptable results.
The Epionce Peel System and Lite Peel: Refresh effectively treat hyperpigmentation, acne, rosacea and aging skin with minimal to no downtime. The unique system uses malic and salicylic acids, plus signature Epionce botanicals, to increase cell turnover in order to unclog pores and rejuvenate skin's appearance and texture on the face, hands, décolleté and back. Both peels help improve acne, reduce irregular pigmentation and give skin a brighter texture and clarity.
Developed in the US, by leading dermatologist, Dr Carl Thornfeldt, the Epionce Peels are formulated for all skin types.
Epionce skin peels use a combination of malic and salicylic acids, along with botanical extracts which have anti-bacterial and anti-inflammatory properties.
Benefits of Epionce Peel System
Brightens, clears and smooths skin texture after one treatment
Maximum cell turnover with minimal to no downtime and irritation
Complements at-home regimens for better anti-aging & skin disease results
Customizable treatment options based on patient's skin needs
Lite Peel Refresh- "lunch-time" Peel
Lite Peel Refresh is formulated to improve the appearance and texture of the skin by increasing cell turnover to freshen and brighten the skin. It relieves skin congestion, dullness, sallowness and improves acne with no downtime. A programmed of 6 peel treatments may be recommended, once a month.
Sal-e and Mal-e are medical strength peels to address more difficult skin issues like hyperpigmentation, acne and skin aging.
Hyperpigmentation:Sal-e and Mal-e can be used together as a combination peel.
Acne: Sal-e - Salicylic Acid 28%/pH 2.7 - Anti-bacterial and anti-inflammatory properties improve skin clarity and texture by cleansing pores
Problem Skin: Mal-e - Malic Acid 50%/pH 0.7 - Potent Alpha Hydroxy Acid that encourages cell turnover, hydration and reduces problem bacteria.
A slight tingling sensation is reported during the application of the treatment. Mild skin flaking in the week following treatment may occur with some but not all clients.
Treatment Schedule: 3-6 peels at least 2-4 weeks apart
Protein Rich Retinol (All Trans Retinol)
P.R.R. 4.0% & 8.0% (for all skin types)
P.R.R.-Protein Rich Retinol 4% and 8%
An anhydrous blend of high concentrations of all-trans retinol plus 18 collagen amino acid building blocks work synergistically when applied following a Collagen P.I.N. treatment to maximize collagen.
Ideal for Skin aging, tone and texture
Stimulates more collagen growth
Repairs cell damage
Improves collagen production
Helps intercellular penetration
* Formats cell membranes
The first and only prescription treatment approved by the FDA for inadequate or insufficient eyelashes, growing them LONGER, FULLER, DARKER. When used appropriately patients will experience results as soon as 8 weeks. This amazing nightly product is easy to use and will give you the lashes that you only thought was possible with mascara.  Once the desired effect has been achieved then a maintenance dose is used a few times a week. Now available in a 5ml bottle.  That's 67% more so 1 bottle will last 10 weeks!!
Website: www.latisse.com
HydraFacial™ MD $250 ($50 add-on for VIP Members)
Duration: 35 Minutes
The HydraFacial™ resurfacing Procedure thoroughly cares for your skin, providing cleansing, exfoliating, extraction, and hydration all while Vortex-Fusing antioxidants, peptides, and Hyaluronic acid. The HydraFacial is a non-invasive, nonsurgical procedure that delivers instant results with no discomfort or downtime. It reduces the appearance of fine lines, wrinkles, pores, brown spots, hyperpigmentation, and oily skin.Can be used for back, chest and neck area for additional charge TBD.
Microdermabrasion $150 (Included in VIP Members)
Duration: 60 Minutes
The Microdermabrasion treatment is a remarkable skin rejuvenation process that gently abrades the skin by peeling the superficial layers of the skin. A great and effective lunch-time treatment! Microdermabrasion is also a great treatment prior to chemical peels and lasers.
Dermaplaning $150 (included in VIP Members)
Duration: 60 Minutes
Dermaplane is a safe, non-invasive treatment which removes "peach fuzz" as well as dead skin cells. This treatment is performed as a standalone treatment or prior to other skincare treatments. This treatment does not require downtime and the benefits included; smoother complexion, aids in product penetration, smooths the appearance of scars and fine lines, and helps to remove dirt and debris.
European/ Anti-Aging Facial $175 (Included in VIP Members)
Duration: 60 Minutes
This facial is adapted to your skin type, customized to treat fine lines, environmental factors and skin conditions that affect the integrity of the skin. It begins with a skin analysis, followed by a gentle exfoliation. Our Aesthetic expert will customize the treatment to reduce inflammation and irritation that exacerbates delicate skin types. The facial utilizes a specially formulated pharmaceutical product line to provide optimal results. Also includes a soothing mask followed by décolletage or hand massage.
Refresh Peel $125 (included in VIP Members)
Also known as the lunch time peel, this is an effective solution for improving skin clarity and refreshing the skin surface. Formulated for all skin types. A simple one step Epionce peel relieves congestion, dullness, and shallowness. It increases cell turnover to retexturize and smooth out the skin. Light extractions as needed followed by a soothing and hydrating Enriched Firming Mask.
Oxygen Infusion Facial $175 ($50 add-on for VIP Members)
Duration: 45 Minutes
The Oxygen Infusion treatment consists of a soothing application of topical hyperbaric oxygen infused with powerful antioxidants in a base of Hyaluronic Acid for immediate visible results. Best for sensitive skin or those who have received any facial laser treatments.
Clarifying Facial Treatment $225 ($50 add-on for VIP Members)
Duration: 60 Minutes
This ZO Skin Health treatment is designed to gently and effectively deep cleanse the skin, reduce large pores and reduce acne causing p-acnes bacteria. Facial begins with deep cleansing, a specialized enzyme mask and exfoliation, followed by a light peel with extractions and a sulfur mask. If needed, can add LED lights to destroy acne-causing bacteria and reduce acne lesions. Results are immediate.
Skin Brightening Facial $225 ($50 add-on for VIP Members)
Duration: 60 Minutes
This ZO Skin Health treatment is designed to address brown spots and discolorations, even skin tone and address skin clarity and restore vitality to the skin. Facial begins with a deep cleansing, steam, exfoliating polish, and application of a custom acid peel to promote the breakdown of excess pigment. Facial extractions (if necessary) followed by a relaxing hand treatment. The facial ends with a special ZO Health Brightening Mask containing a unique blend of arbutin, green tea and vitamin E to further address the pigmentation. LED light if needed.
Osmosis Revitapen Facial Treatment $250 ($75 add-on for VIP Members)
This holistic treatment offers immediate and long-term results with a non-invasive device, Revitapen, to enhance product absorption and drive active ingredients deep into the skin for optimal skin restoration. The enhanced treatment stimulates circulation, soften fine lines, reduces scarring, improves hydration levels and controls breakouts.
Osmosis Rejuvenation Infusion Facial $250 ($75 add-on for VIP Members)
This treatment is for patients with sensitive skin. Includes all products used in Revitapen facial, without the pen. Still beneficial for optimal results and skin restoration.
OxyGeneo 3-in-1 Facial Treatment $225 ($75 add-on for VIP Members)
OxyGeneo provides a unique approach to facial treatments. Recruiting natural physiological processes to increase oxygen levels in the skin and achieve exceptional results. Unlike other technologies, oxygeneo utilizes natural oxygen from within resulting in an effective treatment and immediate results.
Exfoliate. Infuse. Oxygenate.
Breakthrough OxyGeneo® Technology provides superior anti-aging results by treating the skin at a deeper level. Exfoliate, Infuse, and Oxygenate your way to youthful skin. Ultrasound is now available for enhancing the OxyGeneo treatment results.
3-in-1 therapy. Better results.
Plump and hydrate
Restore skin volume
Renew youthful glow
Revitalize dull complexion
Reduce appearance of wrinkles
Firm skin and tighten pores
Improve skin cell production
Reduce appearance of pigmentation
Safe for ANY skin type!
EXFOLIATE
The Capsugen tablet exfoliates the upper skin layer to remove dead cells, smooth and renew the skin, preparing the skin to receive active nutrients.
INFUSE
Capsugen® cleanses the skin, preparing it for infusion of active ingredients: NeoRevive™ for rejuvenation and anti-aging or NeoBright™ for skin brightening and texture improvement
OXYGENATE
The OxyGeneO® effect produces CO2 bubbles which gently burst on the skin surface creating a physiological response, sending oxygen-rich blood to the area. This increases capillary flow and skin metabolism. Oxygenation results in optimal absorption of active ingredients.
Deluxe HydraFacial™ MD $320 ($75 add-on for VIP Membership)
Duration: 60 Minutes
Standard HydraFacial + Lymphatic Drainage + 15% Gly Sal + DermaBuilder + LED Light Therapy
Add-On Services to Any Facial
~LED Light $35 
The LED light consists of a mixture of Red, Blue and Amber LED lights. It reduces fine lines, wrinkles, treats redness as well as irritation. The LED also helps with bruising, inflammation, and clearing out any bacteria. This treatment is great addition to any facial, and aids in post-procedure healing.
~Lymphatic Drainage $35
Lymphatic Therapy has been shown to improve circulation, detoxification, tone, and results in firmer skin. Lymphatic Therapy also aids in healing post-surgical bruising/ and or swelling and removes toxins from your skin.
LED Light ALONE: $50 ($35 for VIP Members)
For extra deep results add a Glysal peel to your HydraFacial. It minimizes visible imperfections within minutes with minimal irritation, or stinging. Your skin has immediate radiance.
Simultaneous cleansing, exfoliation, peeling and hydration.
Softens sebum and impurities and planes away dead skin cells while peeling.
It is a blend of Glycolic, Lactic and Salicylic Acids.
Unique combination of hydration with Peel
Little to no downtime depending on % chosen.
may be used on most skin types, including thin and fragile
Targets fine lines, hyper pigmentation, oily or acne skin
DermaBuilder Peptide Complex - Rebuild your skin!
Add this procedure to any HydraFacial and it immediately enhances skin elasticity and increasing skin firmness. It stimulates the fibroblasts to produce more broad-spectrum collagen/elastin proteins.
Reduces the appearance of wrinkles and fine lines caused by muscle contractions in facial expressions, especially on the forehead and around the eyes.
Enhances skin elasticity
Increases skin firmness
Weight Loss program is offered by Dr. Nawabi
Most medical insurance is accepted for weight loss office visits
Please call (805) 210-5787 to directly speak to someone in Dr. Nawabi's  medical office
Now offering Physician supervised weight loss program!
Begin the SAFEST and STATISTICALLY MOST EFFECTIVE prescription weight loss program available.
Now offering FDA approved weight loss medications that truly work: Qsymia,Contrave and Belviq!
Services offered:
Weight Loss Consultation with Dr. Nawabi
Blood Work
EKG
Vitamin B12 Injections
Lipovicine Fat Burning Injections
Weekly Weigh-ins
Prescription For FDA Approved Weight Loss Medication
What is microdermabrasion?
Microdermabrasion is a minimally invasive exfoliation treatment for skin. During treatment, a gentle stream of aluminum oxide crystals exfoliates the outer layer of skin, after which the dead skin cells and crystal particles are vacuumed away to reveal healthy, fresh skin. Microdermabrasion is less invasive and has a faster recovery time than many other skin resurfacing treatments.
What does microdermabrasion treat?
Microdermabrasion is used to treat a variety of mild-to-moderate skin problems, including acne, scarring, sun damage, age spots and fine wrinkles. Because it only affects the outermost layer of skin (epidermis), it is not effective for repairing deep tissue damage, or removing congenital marks, tattoos, moles and scars.
What are the benefits of microdermabrasion?
Microdermabrasion safely and effectively, with no pain and no downtime, improves the color, tone and texture of skin.
Microdermabrasion is considered safe for all skin types, and is especially effective for Asian and dark-skinned patients who may be at risk for skin discoloration with other types of treatment.
The vacuum used during dermabrasion enhances circulation and lymph flow, rejuvenating the skin internally as well as externally.
Is it necessary to wear sunscreen after microdermabrasion treatment?
After microdermabrasion is performed, the newly exposed layer of skin is vulnerable to sun damage, so wearing sunscreen is necessary. Avoiding the sun the first few days after treatment is recommended.
How long do microdermabrasion's results last?
Microdermabrasion's results are temporary. To sustain results and/or for continued improvement, microdermabrasion should be repeated at 2- to 4-week intervals.
What are the risks of microdermabrasion?
There are no serious risks associated with microdermabrasion. Possible minor side effects of microdermabrasion include skin tightness, redness, minor bruising, fine broken blood vessels, post-inflammatory hyperpigmentation, and cold sore reactivation around the lips. Patients older than 70 may have a slightly escalated risk of bruising and skin abrasions.
Micro-Needling and Platelet-Rich Plasma (PRP)
This innovative, non-surgical treatment popular amongst celebrities, and Hollywoods hottest beauty secret for gorgeous, glowing, smoother and firmer skin
The treatment involves the use of two procedures, micro-needling with our Collagen P.I.N and PRP done consecutively
When PRP is used with Micro-Needling, it penetrates your skin through the tiny channels the microneedles create. The PRP supercharges the microneedling benefits.
Improves fine lines and deep wrinkles
Reduces acne scars,evens skin tone
Lightens hyperpigmentation and sun spots
Reduces appearance of pores
Firms and smooths skin texture
Heals and reduces scars
Reduces broken capillaries and spider veins
Brings back the glow for fresher, younger-looking skin
PRP also addresses under-eye puffiness and dark circles to give you a more youthful, well-rested appearance. Since PRP is derived from your own blood, the side effects are virtually eliminated.
How many treatments should I need?
- While each patient is different and conditions will vary, the typical treatment regimen will consist of 4-6 treatments spaced 4 weeks apart.
Micro-Meedling with the COLLAGEN P.I.N
HOW IS COLLAGEN P.I.N. DIFFERENT FROM THE DERMAL NEEDLING ROLLERS OF THE PAST?
Micro-needling rollers are the previous generation of needling devices. One of the many drawbacks of dermal rollers is the fixed needle or penetration depth (i.e. 0.5mm) which is not very conducive when treating an area like the face which requires different depths due to the varying thickness of skin tissue, depending on the area(s) being treated.
Therefore, having a fixed needle depth or penetration level is a huge drawback when trying to customize a treatment for consistency. Collagen P.I.N. ™ has an adjustable needle depth that allows your skincare provider to adjust penetration depth throughout the entire treatment. This will allow the medical provider to properly address the specific needs of thinner skin on your lower eyelids, crow's feet, and forehead. Additionally, where the tissue is thicker in other areas, like the upper lip, cheeks (due to fat pads), neck and décolletage, the necessary adjustments can easily be treated with 1 needle tip instead of 5 or 6 needle rollers. The other dramatic difference is in the type of injury that occurs using the Collagen P.I.N. versus a Dermal Needling Roller.
Treatment prices start at $300 per treatment for a business card size or smaller.
We can treat any size and any color tattoo safely.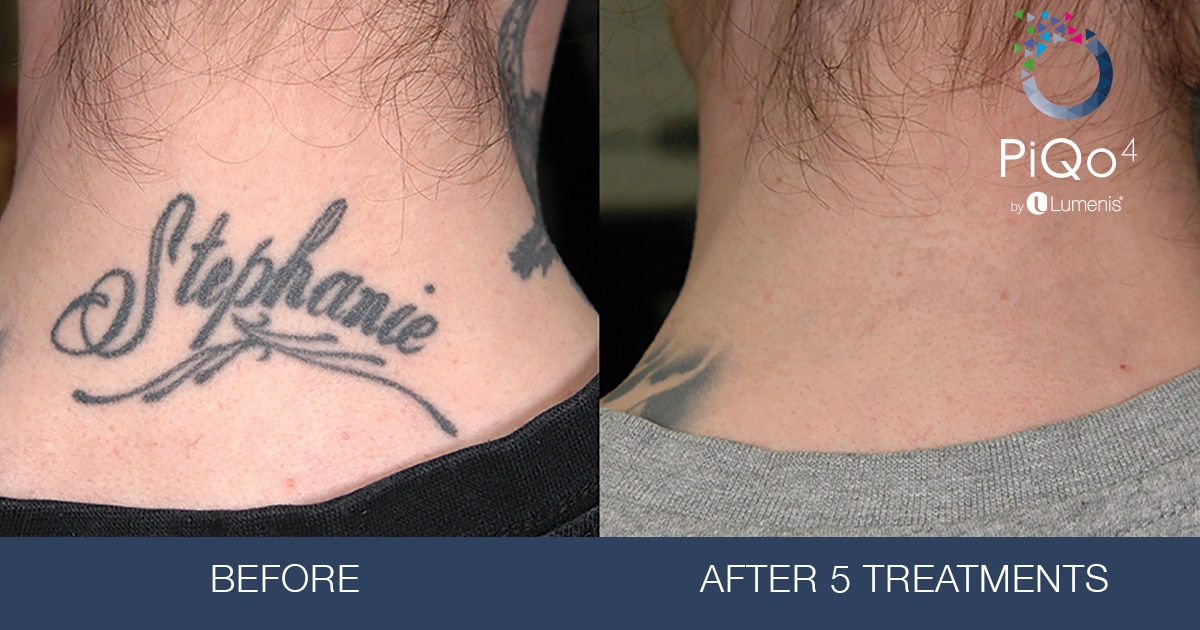 TATTOOS HAVE MET THEIR MATCH!
PiQo4 by Lumenis quickly, safely and effectively erases unwanted ink, no matter the color!
WITH THE POWER OF MULTIPLE WAVELENGTHS, PiQo4 TREATS A WIDE ARRAY OF INK COLORS.
Did you know…Ink colors have differences in light absorption, which means multiple wavelengths are crucial to effectively treat a colorful tattoo.
PiQo4 is a cosmetic laser that is FDA-cleared for tattoo removal, as well as skin resurfacing and pigmentation removal.  This laser is the most advanced technology available for tattoo removal which contains 4 wavelengths to address all colors.
PiQo4 by Lumenis utilizes two different pulses: nanosecond and picosecond. Traditional tattoo and skin rejuvenation lasers utilize nanosecond pulses and work very well. However, many tattoos cannot be completely cleared with nanosecond pulses alone. "Pico" (PiQo) stands for picosecond pulses. These extremely short pulses that can shatter ink and pigmentation into tiny particles, providing more effective clearance.
HOW MANY TREATMENTS WILL I NEED?
There are many variables to consider when developing a treatment plan for laser tattoo removal. The age of the tattoo and location of the body play a part, as well as which ink colors were used. Best results are seen after a series of treatments and your practitioner will provide you with expected results.
HOW LONG DOES A TREATMENT TAKE?
A small tattoo can be treated in a matter of minutes.
WILL THE TATTOO DISAPPEAR COMPLETELY?
In many cases, yes. However, some ink colors are more difficult to eliminate than others. Your practitioner will be able to talk with you about your goal and expected results during your consultation. PiQo4 is able to treat all tattoo colors due to the 4 wavelengths the laser has.
WHAT IF I ONLY WANT PART OF A TATTOO REMOVED?
With PiQo4 we are able to precisely treat even the smallest area without affecting the surrounding skin.
DOES LASER TATTOO REMOVAL HURT?
Laser tattoo removal is not pain free. Most patients say that the laser feels like a rubber band snapping against the skin. Topical anesthetic may be available to minimize discomfort along with use of ice.  For larger tattoos or for those who want extra comfort, we also offer the use of Nitrous Oxide (Laughing Gas) for an additional minimal charge.
ARE THERE ANY SIDE EFFECTS?
Many patients experience redness and swelling immediately following the treatment. These side effects are temporary. Occasionally, colored tattoos may develop blisters after the treatment, but usually heal well with topical ointment.
Patients can return to regular activities immediately following the treatment. However, exposure to the sun should be limited until the treated area has completely healed.
QUICK TREATMENTS AND FAST RESULTS.
PiQo4 combines ultrafast nanosecond and picosecond pulse widths with 4 wavelengths and high energy to effectively shatter ink particles.
This gives patients faster results in fewer treatments.
Under the guidance of Dr. Zein Obagi, ZO Skin Health Inc. has developed a wide spectrum of therapeutic treatment protocols for everyone regardless of skin condition, age, gender or ethnicity.  Based on the latest advances in skin therapy technology-biotechnology complexes, plant stem cell components, and multi-therapy delivery systems-these products and programs have been optimized for your specific needs.
GET SKIN READY (GSR) SYSTEM FOR ALL SKIN TYPES
The GSR system will optimize the effectiveness of your ZO treatment program and is the first step in your protocol.   This basic system includes three products: a cleanser, a scrub, and oil control pads.
ACNE PREVENTION & TREATMENT PROGRAM
This program slows sebum activity and breaks down surface sebum, while exfoliating dead skin cells to help repair surface damage, tighten pores and improve skin texture. This program includes an exfoliating cleanser, an exfoliating scrub, TE pads acne pore treatment, and bio-sulfur masque.
LEVEL 1: DAILY SKINCARE PROGRAM
This program provides the essential tools to help achieve healthier skin using retinol, speciaized enzymes and antioxidants to promote cellular function and restore and maintain youthful, healthy-looking skin.  This program includes an exfoliating cleanser, an exfoliating scrub, daily power defense (antioxidants) and a sunscreen + primer SPF 30.
OSSENTIAL GROWTH FACTOR SERUM PLUS
A lightweight gel that strengthens skin, repairs aging skin, and protects against future signs of aging.  For all skin types, even the most sensitive.
OLLUMINATE INTENSE EYE REPAIR
Stabilized retinol and advanced peptides aid in strengthening skin and minimizing fine lines and wrinkles. Optical diffusers highlight the eye area to reduce the appearance of dark circles. Olluminate Intense Eye Repair helps reduce puffiness and discoloration with antioxidants and anti-inflammatory ingredients.
Unable to make it into the office? If online shopping is more convenient for you, visit our online ZO store and at check out enter this Preferred Shopper Code #:ZOu4RkxE or select Dr. Nawabi as your provider and get FREE shipping on your first order!
Skin Brightening & Correcting Crème, Non-Hydroquinone
Brightenex™ can be used as a first course in treating hyperpigmentation and as a maintenance product after completing a course of RX treatment. It is formulated to even skin color and tone.
Indication:
Hyperpigmentation
sun damage
Benefits
Non-hydroquinone, bioengineered complex that absorbs deep into the epidermis to target the stages of skin discoloration
Multi-action formulation releases micro-encapsulated retinol, plant antioxidants and enzymes to rapidly brighten and even skin tone quality
Unique penetrating formula clarifies and brightens skin, minimizes the appearance of skin redness and helps prevent future damage
Hydroquinone USP, 4% - RX Only
Melamin™ helps even skin tone by inhibiting melanin production. This product contains 4% hydroquinone, which is used for the treatment of pigmentation problems.
Indications:
Melasma
Hyperpigmentation
Benefits
Gradual bleaching of hyperpigmented skin conditions such as chloasma, melasma, freckles, senile lentigines and other unwanted hyperpigmentation
Utilizing an innovative micro emulsion technology, this potent blend of retinol with plant stem cell antioxidants and biomimetic proteins helps reverse the signs of aging and aids in the prevention of future damage.
Indication
Aging skin
rough leathery texture
Benefits
High-potency vitamin A technology stimulates the skin's natural rebuilding process to produce firmer skin, fewer lines and wrinkles and a more even complexion
Biomimetic proteins activate the skin's natural regeneration process to restore vital moisturizing factors and the skin's natural barrier function
Exclusive blend of advanced, bioengineered plant stem cells provides potent antioxidant effect and exceptional inflammation management, which are the key lines of defense against future signs of skin aging
Micronized emulsion system provides rapid delivery and enhanced effectiveness of ingredients
Unable to make it into the office? If online shopping is more convenient for you, visit our online ZO store and at check out enter this Preferred Shopper Code #:ZOu4RkxE or select Dr. Nawabi as your provider and get FREE shipping on your first order!
NECTIFIRM NECK FIRMING CREAM
Formulated specifically for firming the neck and décolletage, Nectifirm was recently featured on The View with Dr. Doris Day.
96% of patients experienced a firmer neck with Nectifirm®. This best-selling neck cream contains plant extracts, antioxidants and unique biotechnological blends that work cohesively to create a smoother, firmer, younger-looking neck.
Helps the skin appear more firm and lifted
Reduces the appearance of rough, crepey skin
Lessens the look of fine lines and wrinkles
Who benefits – All skin types.
*Nectifirm® used twice daily, AM and PM. No other products or treatments were used. Photos courtesy of Theresa Jarmuz, MD, Buckhead Facial Plastic Surgery, Atlanta, GA. Results may vary.
INTELLISHADE BROAD SPECTRUM SPF 45
Anti-aging tinted moisturizer with sunscreen. ORIGINAL or MATTE finish.
Outsmart the signs of aging® with this best-selling tinted moisturizer that gives skin a touch of sheer, healthy color. Formulated with an advanced peptide and broad-spectrum UVA and UVB protection, it's the smart way to care for your skin.
Moisturizes and blends naturally with the color of your skin
Reduces the appearance of fine lines and wrinkles
Provides broad-spectrum UVA and UVB protection
Matte formula contains the latest pore-minimizing technology
Fights photodamage which causes premature aging
Who benefits – All skin types.
Intellishade® Original received a 2013 NewBeauty®Beauty Choice Award.
Get the perfect skin from within. Epionce delivers powerful therapy where you need it most with botanical ingredients, patent pending formulas, and a 5 phase system. This breakthrough in skin wellness is clinically proven and designed to meet your skins unique needs. Their unique approach results in a stronger, healthier barrier that can help defy the effects of aging and disease while helping to prevent destructive inflammatory factors in the skin.  Epionce can be used to treat certain skin conditions such as folliculitis, acne, psoriasis, sebaceous hyperplasia, dermatitis, cracked heels, keratosis pilarsis (small bumps on the back of the arms), and scaly skin, besides fine lines and wrinkles.  Epionce products can be used in place or integrated with other products such as, glycolic products, retinols, Vitamin C/E, and topical steroids.  Perfectly healthy skin can be yours!
The Epionce Regimen includes 5 simple steps that can be customized for any skin care concern.
Cleanse & Prepare
This step removes dirt, oil and makeup without disrupting the natural protective barrier.  Cleansers are available in gentle and lytic formulations that are either creamy or foaming.
Correct & Boost
The Epionce Lytic lotions reduce imperfections, uneven texture, clogged pores, dead skin cells, dry patches, and signs of aging.  These lotions thoroughly penetrate the skin to help clear blemishes while reducing redness and chronic inflammation.
Renew & Fortify
An important step in any skin care regimen is hydrating and strengthening the skin.  This helps reduce the visible signs of aging such as fine lines and wrinkles.  The Renewal facial products deeply penetrate skin layers and stimulate your skin's natural ability to repair itself.  These products come in cream and lotion formulations.
Protect & Prevent
The last step in the regimen helps effectively block UVA/UVB rays that can lead to premature skin aging and skin cancer. These quick absorbing sheer sunscreens are available in a SPF 30+ and 50.
Unable to make it into the office? If online shopping is more convenient for you, visit Epionce's website and at check out enter this Epionce Preferred Shopper Code and get FREE shipping!  Code #: 20080807
Contains a powerful copper complex, Hyaluronic Acid, and Niacinamide that deliver equivalent results to one injection of collagen filler in just two weeks of use by reactivating collagen and elastin synthesis.
Benefits:
Evens out hyperpigmentation and other skin discolorations
Stimulates collagen production, making skin firmer
Contains powerful Tretinoin, a clinically proven topical solution for photodamaged and prematurely aged skin
Combats and reduces the appearance of fine lines and wrinkles, rough skin and scars
Helps even out hyperpigmentation and other skin discolorations
Stimulates collagen production, making skin firmer and more dense
Penetrates deep within the cellular level to repair the damaged dermal matrix and treat and prevent the formation of acne
Considered a gold standard anti-aging treatment, it is available in three strengths including; Retinoic Acid 0.025%, 0.05%, 0.1%
Soothes and moisturizes skin with Allantoin
Directions for use: Use as directed by physician. Do not use if pregnant or nursing
Active Ingredients: Treinoin 0.5%
Ingredient Highlights: Sunflower Oil, Vitamin E (Tocopheryl Acetate), Allantoin, Lecithin
RA Cream (Medical Grade) 0.01%
Powerful, custom compounded Tretinoin treatment is a clinically proven topical solution to repair photodamaged skin, combat and reduce the appearance of fine lines and wrinkles, hyperpigmentation, skin discoloration and the formation of acne. Stimulates collagen production for a healthier more youthful and even skin tone. Powerful actives penetrate deep within the cellular level to repair the damaged dermal matrix and treat and prevent the formation of acne. It is considered a gold standard anti-aging treatment and is available in three strengths including: Retinoic Acid 0.025%, 0.05%, 0.1%.
Benefits:
Evens out hyperpigmentation and other skin discolorations
Stimulates collagen production, making skin firmer
Contains powerful Tretinoin, a clinically proven topical solution for photodamaged and prematurely aged skin
Combats and reduces the appearance of fine lines and wrinkles, rough skin and scars
Helps even out hyperpigmentation and other skin discolorations
Stimulates collagen production, making skin firmer and more dense
Penetrates deep within the cellular level to repair the damaged dermal matrix and treat and prevent the formation of acne
Considered a gold standard anti-aging treatment, it is available in three strengths including; Retinoic Acid 0.025%, 0.05%, 0.1%
Soothes and moisturizes skin with Allantoin
Directions for use: Use as directed by physician. Do not use if pregnant or nursing
Active Ingredients: Treinoin 0.1%
Ingredient Highlights: Sunflower Oil, Vitamin E (Tocopheryl Acetate), Allantoin, Lecithin
Fortified with Vitamin K 4.5%, Sunflower Oil and Sweet Almond Oil, this concentrated, restorative treatment helps reduce under eye dark circles and puffiness while also clearing bruising, spider veins and broken capillaries. Soothing, hydrating properties help skin retain its natural moisture. Helps reduce the appearance of fine lines and wrinkles, while calming emollients relieve redness and irritation often associated with rosacea. Formulated as a treatment regimen for fragile skin before or after in-office or surgical procedures.
Benefits:
Calms and soothes redness and irritation
Helps to fade bruising, spider veins and broken capillaries
Contains Vitamin K 4.5%, Sunflower Oil and Sweet Almond Oil to help fade and clear bruising, improves the appearance of discolored skin caused by spider veins and broken capillaries
Helps reduce under eye dark circles and puffiness
Soothes, hydrates and retains skin's natural moisture
Helps reduce the appearance of fine lines and wrinkles
Alleviates the redness and irritation often associated with rosacea
Soothes and relieves dry, itchy skin with calming emollients including: Sunflower Oil and Sweet Almond Oil
Combats symptoms of aging with antioxidant and anti-inflammatory properties
Formulated as a treatment regimen to address fragile skin before or after in-office or surgical procedures
Directions for use: Apply evenly over face and neck avoiding eye area. Allow to absorb before applying additional products. Can be used twice daily or as directed by physician.
Ingredient Highlights: Vitamin K 4.5%, Sunflower Seed Oil, Sweet Almond Oil, Allantoin
WE ARE EXCITED TO ANNOUNCE THAT WE NOW CARRY
Youngblood Mineral Cosmetics contain the highest quality grade of raw materials.  Youngblood also takes pride their milling process.  By taking a natural mineral and blending it down into a formula that goes on weightless, soft and smooth produces a flawless finish even over problematic areas on the face.  Youngblood foundations are highly pigmented to achieve coverage that is luxurious and impeccable.
THE YOUNGBLOOD DIFFERENCE:
Pure, natural minerals finely milled for weightless, adjustable coverage
Soft, luxurious feel and finish
Ideal for all Skin Tones (Lightest to the Darkest tones)
Ideal for all Skin Types (Dry, Combination, and Oily)
Ideal for all Skin Conditions (Rosacea, Dehydration, and Acne prone skin)
Ideal for all Ages
Made without Zinc Oxide
Vegan formulas.  NO animal or animal bi-products
Non-comedogenic and non-acnegenic.  Will not clog pores or create acne
Gluten-Free Formula: Wheat-Free
Cruelty-free and environmentally responsible
FREE OF: TALC, PARABENS, HARSH OILS, ARTIFICIAL FRAGRANCES OR ARTIFICIAL DYES
YOUNGBLOOD FOUNDATIONS ARE AVAILABLE IN LOOSE (NATURAL) POWDER, CREME POWDER, AND LIQUID FORMULATIONS
MINERAL ILLUMINATING BODY TINT
A creamy, luminous tinted lotion that leaves a healthy sheen on arms, legs and decollete. Highly moisturizing blend of natural oils softens dry skin while a subtle bronze tint helps even out skin tone, with the light scent of Shea Butter and Coconut Oils.
Discover the Magic of Mineral Makeup
Whether your needs are natural day to day enhancement from the finest pharmaceutical mineral makeup line available .  ColoreScience is a blend of science and beauty, culminating in a makeup line that is also a skin treatment, providing anti-bacterial and anti-inflammatory properties that is suitable following a medical cosmetic treatment.
Colorescience believes in four core steps that lead to an amazing finish.
 PREP & PRIME
The perfect finish requires a perfect start.  Colorescience offers a variety of primers and serums that help improve skin texture, tone, and diminish fine lines and wrinkles.  This leaves your skin extremely smooth and ready for the next step.
PROTECT & SHIELD
Sun protection is the fundamental step in keeping your skin healthy and beautiful. Sunforgettable gives you a soft-focus finish and the ultimate protection from sun damage and it aging effects.
COLORE & CORRECT
Colorescience Pro Foundations are uniquely formulated to provide customizable coverage and colore every time.  These lightweight foundations are available in loose powder, liquid, and compact form.  Designed to blend and layer, Colorescience foundations disguise imperfections, enhance features, and even overall skin tone.
 SET & REFRESH
Colorescience Pro Setting Mist keep makeup and sun protection in place while adding vibrancy and hydration to your skin.  Use throughout the day to revitalize your look. This is the perfect finish to the perfect look.
This amazing product line also features an array of blushes, lip serums, polishes, glosses, and colore palates..
ColoreScience has been featured in many magazines including New Beauty.
EltaMD sunscreens help prevent sunburn and decrease the risk of skin cancer and early skin aging caused by the sun, when used with other sun protection measures. EltaMD sunscreens are formulated with transparent zinc oxide and are noncomedogenic, sensitivity-free, fragrance-free and paraben-free. All EltaMD sunscreens are recommended by The Skin Cancer Foundation as effective broad-spectrum sunscreens.
BROAD-SPECTRUM SUN CARE FACIAL SUNSCREEN